NHA LIFETIME MEMBERS
September 23, 2022
All of the NHA Lifetime Member (LTM) Challenge Coins will be mailed to NHA Lifetime Members when they cannot be directly picked up at the NHA Office. Region 1 folks in the greater San Diego area should come by and collect them weekdays during business hours, Monday to Friday. Call 619 435-7139 before you come by.
NHA Staff is working normally in our BLDG #654 office spaces on the Naval Air Station North Island.
CAPT Gillcrist and I are working on the mailing aspect currently which is no small project so be patient. Please make sure your NHA Profile mailing address is correct. Questions about NHA Lifetime Membership can be directed to  LCDR James Teal, USN VP of Membership or the NHA Retired Affairs Director, CDR Mike Brattland, USN (Ret.).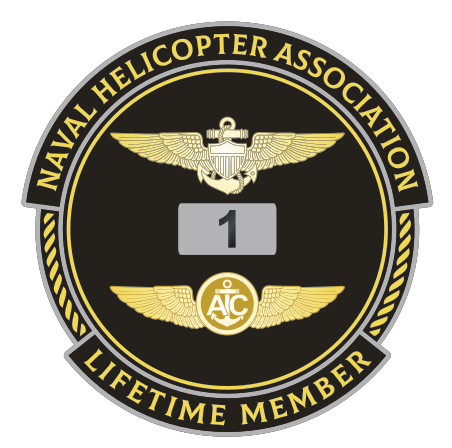 | | | |
| --- | --- | --- |
| 1 | Michael | Short |
| 2 | Tom | Uhl |
| 3 | Ed | Weiler |
| 4 | Arne  | Nelson |
| 5 | Bruce | Brown |
| 6 | Todd | Pike |
| 7 | Brad  | Garber |
| 8 | Lena | Kaman |
| 9 | Nathan | Hickey |
| 10 | William | Shannon |
| 11 | Mike | Reber |
| 12 | Ethan  | Haines |
| 13 | Steven | Tomaszeski |
| 14 | Santico | Valenzuela |
| 15 | Caleb | Derrington |
| 16 | Patrick | Mcgrath |
| 17 | William | Terry |
| 18 | Jack | Olive |
| 19 | Jeffrey | Vorce |
| 20 | Randy | Bogle |
| 21 | David | Ayotte |
| 22 | Dewon | Chaney |
| 23 | Mike | Dowling |
| 24 | Evan | Jones |
| 25 | William | Eastham |
| 26 | Benjamin | Foster |
| 27 | Howell | Purvis |
| 28 | Trevor | Prouty |
| 29 | Frank | Conenna |
| 30 | Bill | Moss |
| 31 | John | Pasichnyk |
| 32 | Nicholas | Zablotny |
| 33 | Zachery | Geyer |
| 34 | Rick | Grant |
| 35 | James | Cordonnier |
| 36 | Michael | O'Connor |
| 37 | Alvin | Holsey |
| 38 | Gregory | Scott |
| 39 | Marc | Liebman |
| 40 | David | Loo |
| 41 | Mac | Mclaughlin |
| 42 | Sean | Smith |
| 43 | Jim | Gillcrist |
| 44 | Mike | Patterson |
| 45 | Joe  | Ames |
| 46 | William | Personius |
| 47 | Shawn | Malone |
| 48 | Bill | Lescher |
| 49 | William | Sherrod |
| 50 | Paul | Hryskanich |
| 51 | Justin | Banz |
| 52 | Thomas | Phillips |
| 53 | Richard | Jaeger |
| 54 | Vincent | Secades |
| 55 | William | Baxter |
| 56 | Rick | Sadlier |
| 57 | Chris | Cole |
| 58 | F. Deane | Magers |
| 59 | Jack | Giannini |
| 60 | Brian | Klidies |
| 61 | Richard | Scott |
| 62 | Stephan | Coakley |
| 63 | Jimmy | Toone |
| 64 | Al  | Haefner |
| 65 | Ryan  | Aaron |
| 66 | Sam | Dirickson |
| 67 | Tom | Curtis |
| 68 | Terry | Badger |
| 69 | Adam | Taylor |
| 70 | Michael | Brattland |
| 71 | Andy  | Cain |
| 72 | Gene | Ager |
| 73 | Andy  | Berner |
| 74 | Sid | Hatcher |
| 75 | Kevin | Mazzella |
| 76 | James | Jowers |
| 77 | Charles | Mckissick |
| 78 | Jeremiah | Ragadio |
| 79 | Nikolas | Rongers |
| 80 | Buck | Buchanan |
| 81 | Mike | Ruth |
| 82 | Ken | Norton |
| 83 | Warren | Aut |
| 84 | Quinton  | Packard |
| 85 | Roger | Mctighe |
| 86 | Michael | Sullivan |
| 87 | Jay | Bowling |
| 88 | John  | Ohlinger |
| 89 | George  | Galdorisi |
| 90 | Jason | Patterson |
| 91 | Scott | Gootee |
| 92 | Robert | Royal |
| 93 | Orville | Long |
| 94 | Joe  | Peluso |
| 95 | Deidre | Coulson-Tucker |
| 96 | Jeff | Melody |
| 97 | Brannon | Bickel |
| 98 | David | Wynne |
| 99 | Paul | Pensabene |
| 100 | Paul | Stevens |
| 101 | Michael | Nanoff |
| 102 | Greg  | Eaton |
| 103 | Brian | Buzzell |
| 104 | Alex | Haupt |
| 105 | Daniel | Fillion |
| 106 | James | Riley |
| 107 | Richard | Roberts |
| 108 | Virginia | Carson |
| 109 | Carl | Frank |
| 110 | Dwayne | Oslund |
| 111 | Andrew | Miroff |
| 112 | Daniel | Hansen |
| 113 | Leroy  | Mills |
| 114 | Lora | Gorsky |
| 115 | Bale | Dalton |
| 116 | Brent  | Alfonzo |
| 117 | Arlen  | Connolly |
| 118 | Brian  | Conner |
| 119 | David | Hall |
| 120 | David  | Wright |
| 121 | David  | Owens |
| 122 | Mont | Smith |
| 123 | Harold | Brattland |
| 124 | David | Nostro |
| 125 | Dick | Lynas |
| 126 | Steve | Jordon |
| 127 | Patrick | Durden |
| 128 | Neil | Sparks |
| 129 | Gene | Pellerin |
| 130 | Dennis  | Dubard |
| 131 | Ralph | Deyo |
| 132 | Larajean | Lauzen |
| 133 | Daniel | Decicco |
| 134 | Matthew  | Niedzwiecki |
| 135 | Daniel | Kutz |
| 136 | David | Visser |
| 137 | Pete | Oldmixon |
| 138 | Sean | Cook |
| 139 | Jeff | Berger |
| 140 | Philip | Duffy |
| 141 | Tony | Dzielski |
| 142 | Patrick | Jeck |
| 143 | Haylee | Coffey |
| 144 | David | Eustis |
| 145 | Michael | Fuqua |
| 146 | Roger | Hulson |
| 147 | Daniel | Free |
| 148 | Benjamin | Teich |
| 149 | John  | Leach |
| 150 | Arnie | Fieser |
| 151 | Eric  | Page |
| 152 | Bill | Hughes |
| 153 | John  | Gallagher |
| 154 | Ryan  | Hayes |
| 155 | Philip  | Parmley |
| 156 | Russ | Smith |
| 157 | Jonathan | Lushenko |
| 158 | Bo | Beeman |
| 159 | Michael | Watson |
| 160 | Baileigh | Kimball |
| 161 | Lance  | Clausen |
| 162 | John  | Furness |
| 163 | Matt | O'Keefe |
| 164 | Robert | Macynski |
| 165 | Jacob | Williams |
| 166 | Andrew | Lynch |
| 167 | Liam | Roddy |
| 168 | Michael | Hatch |
| 169 | Kaitlin | Boensel |
| 170 | Howard | Whitfield |
| 171 | Billy | Walsh |
| 172 | Jeffrey | Elder |
| 173 | Scott | Lippincott |
| 174 | Walt | Lester |
| 175 | Edgardo | Moreno |
| 176 | Gregory | Grady |
| 177 | Mike | Marriott |
| 178 | Michael | O'Hearn |
| 179 | Christopher | Leigh |
| 180 | Dan | Arnes |
| 181 | Frank | Orsino |
| 182 | Matthew  | Seibert |
| 183 | Justin | Reifsnyder |
| 184 | Sandy  | Clark |
| 185 | John | Stockdill |
| 186 | Blade | Schallenberger |
| 187 | Thomas | Ham |
| 188 | Sean | Readdy |
| 189 | Christopher | Dedo |
| 190 | Ethan  | Horn |
| 191 | Dave | Moulton |
| 192 | Sean | Rocheleau |
| 193 | Tim | Barnhart |
| 194 | Scott | Murphy |
| 195 | Andrew | Herrera |
| 196 | Andy  | Bishop |
| 197 | Matthew  | Wellens |
| 198 | Gary | Kochert  |
| 199 | Ray | Hufnagel |
| 200 | Garrett | Cross |
| 201 | Michael | Horan |
| 202 | Matt | Pohl |
| 203 | Melvin | Hayden |
| 204 | Michael | Gerhart |
| 205 | Christoper | Morgan |
| 206 | Ian | Gill |
| 207 | Todd | Galvin |
| 208 | Kevin | Ringelstein |
| 209 | Stuart | Lyster |
| 210 | Christina | Carpio |
| 211 | David | Carpio |
| 212 | John  | Counts |
| 213 | Paul | Thomason |
| 214 | Richard | Vtipil |
| 215 | Stephen | Bowden |
| 216 | Ryan  | Yonkman |
| 217 | Kaila | Diede |
| 218 | Philip | Gift |
| 219 | Christopher | Cady |
| 220 | Amy | Bauernschmidt |
| 221 | Mark | Vanderberg |
| 222 | Rich | Sluys |
| 223 | Charles | Chmielak |
| 224 | John | Souders |
| 225 | Dale | Lescher |
| 226 | Geoffrey | Marshall |
| 227 | Walter | Gillette |
| 228 | Daniel | Keeler |
| 229 | Jeff | Schwab |
| 230 | Jim | Raimondo |
| 231 | Jeremy | Hall |
| 232 | Paul | Kramer |
| 233 | Eric  | Ruttenberg |
| 234 | Bill  | Boddy |
| 235 | Brittany | Nelms |
| 236 | Joe  | Purtell |
| 237 | Ronald | Christenson |
| 238 | Tom  | Pocklington |
| 239 | John | Smith |
| 240 | Thad | Boggs |
| 241 | Lloyd | Johnson |
| 242 | Eric  | Taylor |
| 243 | Ben | Putbreaze |
| 244 | Lin | Walton |
| 245 | Dave  | Bean |
| 246 | Joseph | Kenderick |
| 247 | Bill | Sears |
| 248 | Dan | Braswell |
| 249 | Joe  | Denigro |
| 250 | Robert | Moore |
| 251 | Augustus | Clark |
| 252 | Jeff | Myers |
| 253 | Tim | Cleary |
| 254 | William | Walker |
| 255 | Robert | Hight |
| 256 | Thomas | Dean |
| 257 | William  | Roop |
| 258 | Kendall | Card |
| 259 | Arno | Justman |
| 260 | David | Frey |
| 261 | Dale | Milton |
| 262 | Mike | Geraghty |
| 263 | Ernie  | Rogers |
| 264 | Edmund | Driscoll |
| 265 | Elliott | Moses |
| 266 | Charles  | Mason |
| 267 | Pete | Buelow |
| 268 | Eleanor | Mosholder |
| 269 | Tom | Wendt |
| 270 | Brandon | Hamilton |
| 271 | Jason | Stevens |
| 272 | Duane  | Phillips |
| 273 | Bill | Keller |
| 274 | Keneth | Inglesby |
| 275 | Mike | Fisher |
| 276 | Rob | Ballard |
| 277 | Stephan | Steacy |
| 278 | Robert | Antonucci |
| 279 | Rob | Swain |
| 280 | Steve | Malloy |
| 281 | James | Bell |
| 282 | Jim | Gould |
| 283 | Thomas  | Nosenzo |
| 284 | Ted | Lavoot |
| 285 | Archible | Sherman |
| 286 | Tony | Petersen |
| 287 | Edwin | Benshop |
| 288 | Felix | Usis |
| 289 | John | Quillinan |
| 290 | Mark  | Philbin |
| 291 | James | Teal |
| 292 | David | Terry |
| 293 | Jim | Biestek |
| 294 | Shaun | McAndrew |
| 295 | Jennifer | Holsclaw |
| 296 | Shea  | Davis |
| 297 | Ian | Kirschke |
| 298 | Mark | Joynt |
| 299 | Cary  | Lawson |
| 300 | Robert | Anderson |
| 301 | Russell | Kratoville |
| 302 | James | Carriere |
| 303 | Charles | King |
| 304 | Josh  | Starr |
| 305 | Katie | Gallagher |
| 306 | Terry  | Washburn |
| 307 | Samantha | Healey |
| 308 | Tom | Ford |
| 309 | Christopher | Siedsma |
| 310 | Joese | Escobedo |
| 311 | Timothy | Benoit |
| 312 | Casey | Keilty |
| 313 | Chris | Yost |
| 314 | Tyler | Bothel |
| 315 | Carl | Stokes |
| 316 | Leonard/Kurt  | Woltersdorf |
| 317 | Douglas | Hudson |
| 318 | David | Laliberte |
| 319 | John | Edwards |
| 320 | Chuck | Brooks |
| 321 | Tres | DeHay |
| 322 | Mike | Middleton |
| 323 | Patrick | Norwood |
| 324 | Thomas  | Webber |
| 325 | Sean | Murray |
| 326 | Peter  | Booth |
| 327 | Ed  | Wilsey |
| 328 | Matt | Schwab |
| 329 | Eugene | Bolton |
| 330 | Kent | Thompson |
| 331 | Scott | Pritchard |
| 332 | Patrick | Resler |
| 333 | Martin  | Schubert |
| 334 | Thomas | Hinderleider |
| 335 | Jason  | Burns |
| 336 | Dan | Adams |
| 337 | Jan  | Gaudio |
| 338 | Marco | Tinari |
| 339 | Richard | Malczynski |
| 340 | Brian | Reardon |
| 341 | Michael | Freeman |
| 342 | Josh  | Avery |
| 343 | Drew | Hamblen |
| 344 | Matt | Dolan |
| 345 | David  | Burkett |
| 346 | Manuel | Pardo |
| 347 | Rich | Oconnell |
| 348 | Bobby | Brown |
| 349 | Robert | Kimnach |
| 350 | Kristina  | Mullins |
| 351 | George  | Cagle |
| 352 | Daniel | Bergstrom |
| 353 | Steven | Schreiber |
| 354 | Scott | Renner |
| 355 | Nancy | Watson Evans |
| 356 | Dave  | Harry |
| 357 | Ruben | Tapia |
| 358 | Andy  | Small |
| 359 | Charles | Huff |
| 360 | Rick  | Shoaf |
| 361 | Dick  | Carver |
| 362 | Travis | Wolf |
| 363 | Kevin  | Kenney |
| 364 | Terry | Hoeft |
| 365 | Gary  | Lazzaro |
| 366 | Rick  | Kiser |
| 367 | Dave | Diamond |
| 368 | Leroy | Fulmer |
| 369 | David | Dahmen |
| 370 | Elmer | Nagma |
| 371 | Scott | Weller |
| 372 | Jon  | Anderson |
| 373 | Larry  | Wahl |
| 374 | William  | Sontag |
| 375 | Jim | Ellington |
| 376 | Mark | Davis |
| 377 | Brent  | Canady |
| 378 | Jeff | Hanke |
| 379 | Tim | Davison |
| 380 | Tim | Hewitt |
| 381 | Lena | Moore |
| 383 | Jeffrey | Gruetzmacher |
| 384 | Gary  | Jones |
| 385 | Timonthy | Hallihan |
| 386 | Jeremy | Cappalo |
| 387 | David  | Williams |
| 388 | J. Kevin | Moran |
| 389 | Scott | Walgren |
| 390 | Michael | Beidler |
| 391 | David  | Bowes |
| 392 | James | Pendley |
| 393 | Michael  | Coumatos |
| 394 | Garry | Hall |
| 395 | Greg  | Leland |
| 396 | Christopher | Huff |
| 397 | Dennis  | Dumbauld |
| 398 | Tom  | Pruter  |
| 399 | Michael | Steffen |
| 400 | John | Olmstead |
| 401 | Paul | Grosklags |
| 402 | Kevin | Lind |
| 403 | Glen | Ives |
| 404 | John | Roberti |
| 405 | William  | Zidbeck |
| 406 | Robert | Schottle |
| 407 | Robert | Scholes |
| 408 | John | Sowers |
| 409 | Robert | Bohner |
| 410 | Chuck | Deitchman |
| 411 | Noel | Preston  |
| 412 | Ken  | Curtis |
| 413 | Allyson | Darroch |
| 414 | Linda  | Vydra |
| 415 | Ryan | Carron |
| 416 | Michael | Little |
| 417 | Stephen | Greene |
| 418 | Ken  | Marion |
| 419 | Earl | Gay |
| 420 | William | Davis |
| 421 | Jay | Stanke |
| 422 | Patrick | Blind |
| 423 | Joey | Tynch |
| 424 | Paul | Aoki |
| 425 | Michaela | Bailie |
| 426 | Domenico | Monaco |
| 427 | Jordan | Schuster |
| 428 | Jim | Talbot |
| 429 | Lindsey | Campbell |
| 430 | David | Gorski |
| 431 | Kari | Maclennan |
| 432 | Daniel | Kamensky |
| 433 | Natalya | Cooper |
| 434 | Richard  | Krueger |
| 435 | Daniel  | Baskin |
| 436 | Ray | Johnson |
| 437 | Ken | Ireland |
| 438 | Brendan | Hinz |
| 439 | Brad | Nordyke |
| 440 | Wes | Cooper |
| 441 | Charles | McKinney |
| 442 | Morris | Steen |
| 443 | Paul | Gillcrist |
| 444 | Rich | Davis |
| 445 | Henry | Johnson |
| 446 | Jeffrey | Hughes |
| 447 | Kenneth | Rigoulot |
| 448 | Carl | Bindman |
| 449 | John | Newcomb |
| 450 | Tom | Jones |
| 451 | M.E. Kawika | Chang |
| 452 | William | Young |
| 453 | Ted | Elkins |
| 454 | John | Forti |
| 455 | David | Crossan |
| 456 | Rebecca | Crossan |
| 457 | Robert | Larys |
| 458 | Thomas  | Lansley |
| 459 | Ronald | Schowe |
| 460 | Todd | Vandegrift |
| 461 | Peter  | Brennan |
| 462 | Luke | Visconti |
| 463 | Dakota | Davis |
| 464 | Jeremy | Hans |
| 465 | Pete | Donaher |
| 466 | Kirk  | Daniels |
| 467 | John | Fears |
| 468 | Pete | Murray |
| 469 | Glenn  | Doyle |
| 470 | Kelly | Middleton |
| 471 | Will | Silvestre |
| 472 | Jim  | Gaskins |
| 473 | Herbert | Race |
| 474 | Andrea | Ragusa |
| 475 | Greg | Hoffman |
| 476 | Steve | Macgillis |
| 477 | Nicholas | Traglia |
| 478 | Roger | Murray |
| 479 | Brad | Bailey |
| 480 | Don | Williamson |
| 481 | Emily | Stellpflug |
| 482 | Andri | Manci |
| 483 | Bart | Marsh |
| 484 | Gary | Mayes |
| 485 | Benjamin | Burford |
| 486 | Tim | Alexander |
| 487 | Joelllen | Oslund |
| 488 | Coleen | Nevius |
| 489 | Layton | Getsinger |
| 490 | Kurt | Spoons |
| 491 | Ted | Sholl |
| 492 | Robert  | Hassin |
| 493 | Tony | Chavez |
| 494 | Payden | Roberts |
| 495 | Marv | Carlin |
| 496 | Jim | O'Brien |
| 497 | Mircea | Stoica |
| 498 | Sergei | Sikorsky |
| 499 | Chris | Fitzgerald |
| 500 | Tony  | Perez |
| 501 | Bill | Meneeley |
| 502 | Andrew | Curtin |
| 503 | Katie | Ellis |
| 504 | Thomas  | Butts |
| 505 | Mathew | Guerin |
| 506 | Gary | Leaman |
| 507 | Mathew  | Rigler |
| 508 | Timothy | Henderson |
| 509 | Xipetotec | Thorngate |
| 510 | Jeffrey | Bocchicchio |
| 511 | Ian | Kluckman |
| 512 | Seven | Kohl |
| 513 | Cody  | Keef |
| 514 | David | Hoopengardner |
| 515 | Kevin | Meyer |
| 516 | Patrick | Sippel |
| 517 | James  | Sullivan |
| 518 | Mark | Nakervis |
| 519 | Dean | Farmer |
| 520 | Shelby | Mounts |
| 521 | Tim | Ziemer |
| 522 | Alexander | Heydt |
| 523 | Jim | Foley |
| 524 | Steve | Steinmetz |
| 525 | Shoshana | Chatfield |
| 526 | Francis  | Atkinson |
| 527 | Marshall | Bennett |
| 528 | Geoffrey | Posdal |
| 529 | Stephen  | Perez |
| 530 | Jessica | Whitens |
| 531 | Brett | Johnson |
| 532 | Michael | Dickerson |
| 533 | Alex  | Ledsma |
| 534 | Ryan | Mable |
| 535 | George | Whitehead |
| 536 | Norman | Ward |
| 537 | Ed  | Berry |
| 538 | Morgan  | Dalton |
| 539 | Walt  | Steiner |
| 540 | Timothy | Faller |
| 541 | Nathan | Stein |
| 542 | Mark | Deardurff |
| 543 | Lief | Alleman |
| 544 | Dustin | Flaum |
| 545 | Harold | Hunt |
| 546 | David | Larsen |
| 547 | James | Moore |
| 548 | John  | Mc Gill |
| 549 | Michael | Buehler |
| 550 | Meagan | Buriak |
| 551 | Ian  | Tembe |
| 552 | Charles | Stevenson |
| 553 | Dennis  | Neumann |
| 554 | Mike | VanMeter |
| 555 | James | Muse |
| 556 | Dan | Beck |
| 557 | Larry  | Patrick |
| 558 | Bill | Vivian |
| 559 | Michael | Davis |
| 560 | Dennis  | Hathaway |
| 561 | Robert | Scott |
| 562 | Sam  | Callaway |
| 563 | Christopher | Hayes |
| 564 | Nicolas | Lingenfelter |
| 565 | Paul | Erny |
| 566 | Joshula | Womboldt |
| 567 | Zachery | Wallace |
| 568 | Mark | Haley |
| 569 | Casey | O'Brien |
| 570 | Matt | Schnappauf |
| 571 | Clarence | Merritt |
| 572 | Lauren | Chavis |
| 573 | Chris | Conlon |
| 574 | Jerry | Crick |
| 575 | Lawrence | Bomke |
| 576 | Aaron | Sell |
| 577 | Sean | Cavanagh |
| 578 | Karte | Henry |
| 579 | John | Lynch |
| 580 | Barry | Waluda |
| 581 | Jeremy | Bartowit |
| 582 | Justin  | Tate |
| 583 | Jaun | Gutierrez |
| 584 | Zak | Kern |
| 585 | Nathanie | Wilson |
| 586 | Ben  | Allen |
| 587 | Dennis  | Vigeant |
| 588 | Jack | Lahey |
| 589 | Nick | Schnettler |
| 590 | Curtis | Shaub |
| 591 | Chad | Glasscock |
| 592 | Adam  | Patterson |
| 593 | Hannah | Vincent |
| 594 | Joe | Stuyvesant |
| 595 | Ronnie | Fleming |
| 596 | Gregory | Dewindt |
| 597 | Ian | Grover |
| 598 | Nathan | Marshall |
| 599 | Bruce | Pollock |
| 600 | Bill | Maske |
| 601 | Jim | Schmitt |
| 602 | Elizabeth | Janca |
| 603 | Chad | Westfall |
| 604 | Robert | Bixby |
| 605 | Reed | Carr |
| 606 | Joshua | Avila |
| 607 | Jared | Powell |
| 608 | Cullen | Hankes |
| 609 | Daniel | Smith |
| 610 | Mathew | Kiser |
| 611 | Wesley | Johnson |
| 612 | George | Aguilar |
| 613 | Tim | Matthews |
| 614 | Tom | Beard |
| 615 | Tim  | Saye |
| 616 | Andrew | Pagliarulo |
| 617 | Mike | Kilman |
| 618 | Patrick | Boensel |
| 619 | James | Stranges |
| 620 | Ray | Carroll |
| 621 | Roger | Rich |
| 622 | Wade | Mcconvey |
| 623 | Carl | Hess |
| 624 | John | Pelzer |
| 625 | Zach | Humphreys |
| 626 | Scott | Moak |
| 627 | Kenny | Sevenello |
| 628 | Larry  | McCullen |
| 629 | David | Farrell |
| 630 | Joshua | Kautzman |
| 631 | Michael | Simonetti |
| 632 | Scott | Hatch |
| 633 | Larry  | Carello |
| 634 | Rob | Meyer |
| 635 | Brad | Cadwall |
| 636 | Mike | Wellman |
| 637 | David | Valsassina |
| 638 | Shannon | Martin McCain |
| 639 | Bill | Gortney |
| 640 | Chip | Lancaster |
| 641 | Craig | Williams |
| 642 | Eric | Keith |
| 643 | Tom | Wallace |
| 644 | Colin | Boynton |
| 645 | Don | Steuer |
| 646 |  Gabby |  Feldman |
| 647 |   |   |
| 648 |   |   |
| 649 | Michael | King |
| 650 |   |   |
| 651 | David | Walt |
| 669 | Jackson | Cotney |
| 700 | Ross | Drenning |
| 701 | Clinton | Brown |
| 716 | Mark | Edson |
| 717 | Stephen | Bury |
| 720 | Jeffrey | Storer |
| 741 | Eli | Owre |
| 749 | David | Vogelgesang |
| 765 | Ryan  | Litchert |
| 773 | Jameel | McDaniel |
| 775 | Bryan | Wogerman |
| 777 | Allyn | Uttecht  |
| 778 | Justin | Eckhoff |
| 779 | Brett | Elko |
| 808 | Scott | Chun |
| 815 | Tim | Brown |
| 848 | Dan | Thomas |
| 849 | Kent | Gebicke |
| 860 | Lisa | Brennan |
| 888 | David | Waner |
| 949 | Andrew | Fitzgerald |
| 980 | Chris  | Pinar |
| 994 | James  | Thomas |
| 1000 | Randy  | Abshier |
| 1259 | Jose | Arana |